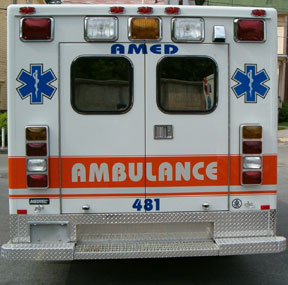 AMED currently operates 13 ALS (Advanced Life Support Paramedic) ambulances. During normal operation, four units are fully staffed with highly trained and experienced EMS professionals.
All of AMED's units offer mutual aid to neighboring communities and EMS services. AMED is licensed by the PA Department of Health and operates within the Southern Alleghenies Emergency Medical Services Region.

AMED's current duty staff consists of over 80 Paramedics and EMT's, both career and casual. We have three, 8-hour shifts (1st = 8am – 4pm, 2nd = 4pm – midnight, 3rd = midnight – 8am). AMED employees have an average of 10 years experience. Some personnel have over twenty years on the job. On average AMED responds to over 13,000 incidents making us one of the busiest and most experienced EMS services between Pittsburgh and Harrisburg.
AMED personnel must not only complete the yearly continuing education required by the Pennsylvania Department of Health, but must also attend several in-house trainings and testing, as well as meeting skills requirements. AMED also utilizes an extensive Quality Assurance program, which includes a peer review, supervisor review, and a physician review to insure high standards of care.
AMED handles more than just emergencies. We routinely handle long distance transports (LDT's) from area hospitals to hospitals in Pittsburgh, Washington DC, Baltimore, Cleveland, Danville, and Hershey. We are equipped with specialized equipment such as portable ventilators and IVAC IV pumps. AMED is proud to provide ground support services for StatMedEvac medical aircraft. AMED also provides support to the Altoona Fire Department's Hazardous Materials Team with Paramedics to support critical Haz-Mat operations and insure the health of fire service personnel. The Blair County EMA (Emergency Management Agency) mass casualty trailer is housed and operated by us as well.

In 2004, AMED became a member of Squad 3, a division of the Pennsylvania Urban Search and Rescue Team. Our team can be deployed anywhere in the state for emergencies and participates in annual training exercises.

AMED also remains active in the community with a focus on health and safety. We attend health fairs, give demonstrations at schools, and provide professional EMS coverage at sporting events and other large community events. AMED frequently receives cards of thanks, compliments and kind words from patients and their families providing first hand reinforcement that AMED and its EMS professionals are making a difference!