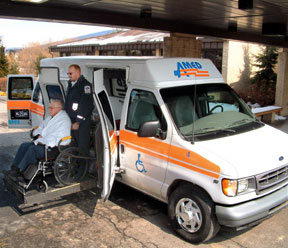 Our transport service was developed as
a cost effective mode of transportation when an ambulance is not needed.
Our service provides professional, non-emergency transportation for those unable to utilize conventional modes of transportation.
Use AMED's Transport Service for...
• Medical office appointments
• Discharge from the hospital
• Outpatient appointments
• Radiation and oncology appointments
• Dialysis appointments
• Rehabilitation therapy appointments
• Nursing home transportation
• Special situations (call for details)

Please download our brochure for more complete information
on AMED and our van services.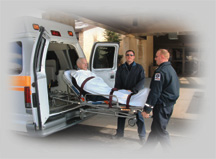 Who can use AMED's Transport Service?
• Ambulatory people who need assistance
• People who use wheelchairs
Why AMED Transport Service?
The AMED Authority has been providing quality ambulance service to the Altoona area for over 39 years. Our transport service provides the same professional, caring, and efficient service that you have come to expect from AMED.